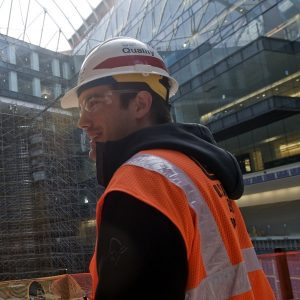 We are actively searching for candidate for our client,  a construction company from Dubai, UAE.
Please read the detailed descripton below.
JOB REQUIREMENTS:
Master Degree or Degree in Mechanical Engineering;
Interested in Research & Development activity cycles in Mechanical Engineering field and related subjects;
Related industry know-how and experience in Building Maintenance Units (design, quality and performance will be an added advantage);
Minimum 3 years of Design experience;
Experience in Crane, BMU, Escalator Industry;
Shall know quality concepts related to design & manufacturing;
Fluent in English;
Knowledge about:

Mechanics;
Drives & Controls;
Machine Elements;
Auto CAD (Must);
Solid Works or Auto Desk Inventor (3D);
Staad Pro knowledge is an added advantage;
Usage of MS Excel calculators.
ESSENTIAL SKILLS:
Excellent inter-personal and communication skills;
Excellent managerial skills;
Organized;
Problem-solving attitude, solution oriented ;
Excellent Design Concepts presentation capability;
Team player;
Day one & Self starter.
CRITICAL COMPETENCIES:
Ability to make accurate decisions through analysis and common sense;
Quality conscious;
Attention to detail;
Ability to work under pressure;
Comfortable to work in a target driven environment;
Work on project calendars timelines;
Being able to produce quality design outputs;
Able to multitask;
Responsive to the communication related to project progress.
SCOPE:
Manage a team of 2 to 3 Design engineers;
Guide his team technically in the design process;
Interact with Design Manager in completing the design tasks in time and to the intended design requirements;
Handle 1 or 2 projects from concept to manufacturing drawings;
Responsible for the design output of the team in terms of both quality and time;
Prepare Technical Submittals and coordinate with client for approvals;
Detail design of all elements of the workable subassemblies and assemblies supported by relevant calculations;
Prepare manufacturing drawings and coordinate with manufacturing team till assembly, testing & commissioning;
Visit installations for design validation;
Supervise the design engineers work, check and release design according to company standards;
Generate innovative solutions, test & implement;
Monitor design revisions carried out by every designer;
Reduce design revisions.
CONDITIONS:
Monthly salary 14 000 AED (for Senior Design Engineer position);
The compensation package includes accommodation, Transport to & From work provided by the Company;
Medical policy for Outpatient and Inpatient provided by the Company;
All visa expenses shall be paid by the Company;
Work location: Dubai, United Arab Emirates;
Timing is 7 am to 5 pm with short lunch break for 5 days a week. Friday & Saturday are weekend;
30 days leave per year;
Contract period — 2 years and extendable;
Return air ticket to home country after a year of service provided.
If interested please send CV to:
info@ukrstaff.com
subject: CVsde